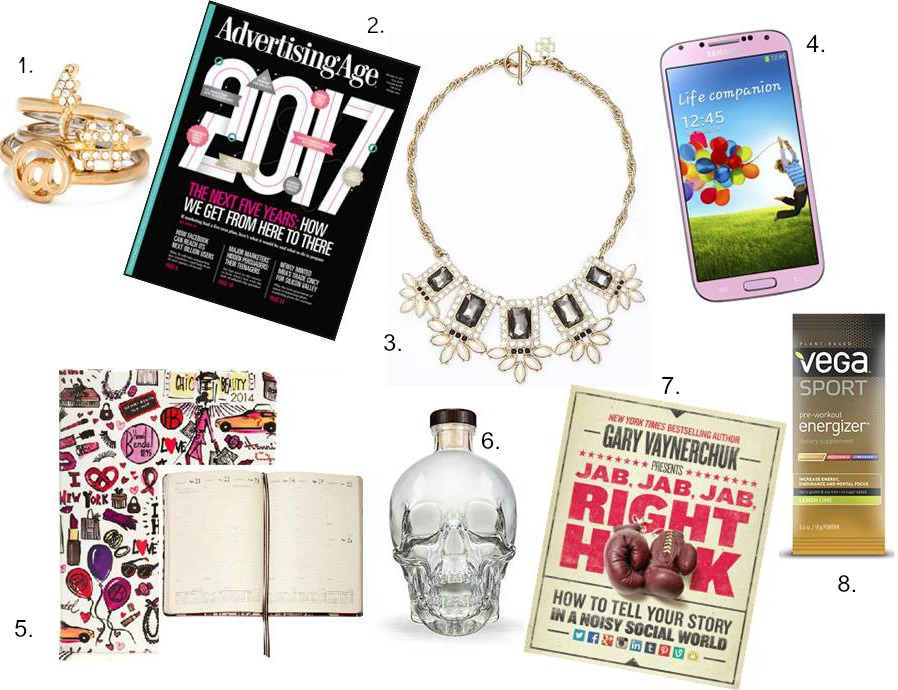 1. Rachel Roy Emotion Ring Set –
Great for the social media loving fashion enthusiast. A three ring set including a hashtag and @ sign too. I love gold rings!
2. Advertising Age Subscription –
Last year, I purchased a subscription to AdAge on Black Friday. I just renewed a few weeks ago. It's definitely a great way for me to stay on top of the latest advertising, marketing and social trends. I highly recommend subscribing. If the person your buying for isn't in marketing, I recommend finding the best magazine for their field. Looks like they are currently having a $59 Cyber deal too.
3. Crystal Marquis Cluster Statement Necklace
– Lately, I have been seeing so many statement necklaces that I love. This one caught my eye on Black Friday hanging in the window at Ann Taylor. I think statement necklaces are a great way to spice up classic looks.
4. Samsung Galaxy S4 –
I am a huge fan of the Galaxy phone. I had the Galaxy S3 for a while and I miss the big screen! I like how the S4 has so many of the same features including the big screen.  Have you guys heard about Aio Wireless? They offer a flat-rate monthly fees ($40, $55, $70 and yes that includes taxes

) and no contracts.  Definitely simplifies things! Learn more about them
here
.
5. Henri Bendel Run Around Town 2014 Desk Diary –
I'm on the hunt for a new planner. I really like how this one has lots of space for writing in addition to a 2014 calendar.
6. Crystal Head Vodka –
I tried Crystal head last year at the Speakeasy Festival in ATL. I am a huge fan ever since. Plus, once you finish drinking it, the bottle is a really fun keepsake. It has a smooth taste going down. I would recommend this as a fun party gift. Especially for a guy. I think he'd be impressed with your selection and the cool bottle. Find out
where to buy
.
7.Jab, Jab, Jab, Right Hook by Gary Vaynerchuck -
I have heard so many great things about
this book
so far. I added it to my Amazon wish list.
8. Vega Sport Pre-Workout Energizer –
Know a busy person on the go? Yeah, I'm sure everyone does. I have reviewed the pre-workout energizer before and I love using it right before my
morning workouts
.