I did not follow Celebrity Apprentice every week. In fact, I caught up with all of the episodes online over evenings last week. It's always interesting to watch how celebrities play the game. I prefer Celebrity Apprentice to the regular one. I also believe that the celebs receive more benefits by winning than non celebs. (Who can name off non celeb winners? Right) After winning, Joan Rivers revitalized her career, Piers Morgan took over hosting duties for Larry King. Holly Robinson Peete came in second but still received numerous opportunities from her appearance. John Rich expanded his popularity beyond the realm of country music. Last night, I watched as Arsenio Hall and Clay Aiken went head to head. I remember Arsenio from his late night show and mostly from the cult classic movie Coming to America. Of course, I remember Clay Aiken from his stint on American Idol as the runner up to Ruben Studdard. That was back when American Idol first came out and I watched the show more often. Arsenio Hall won the match-up and took home the title of Celebrity Apprentice.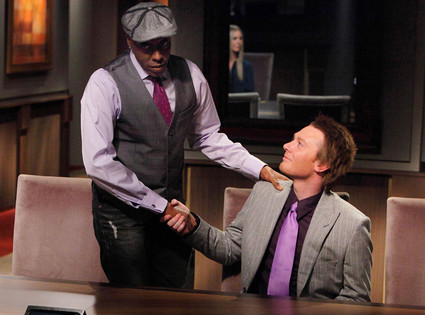 photo by Douglas Gorenstein/NBC
Before announcing the winner, Donald Trump stated, ""This is a very, very tough decision. You're both amazing people. There is no loser tonight."  That means that Clay Aiken has come in second place on television twice. That sucks. How come people say "you're awesome, you're wonderful, you're amazing but oh, your still fired." Losing doesn't feel good no matter how great your personality is. I know all of this hit close to home for me as I take a look at my career in terms of where it is and where I'm going. Over the past few weeks, I've felt pretty rejected by many people and opportunities. It's not the best feeling in the world. It has made me realize that I don't need 1,000 wins to be successful. I never won every cheerleading competition I did. I never aced every test I took. But I won 3 significant competitions and 2 of them resulted in championship rings. Think about this though: I won 3 but lost around 20. The victories weren't all at once and I remember going home many Saturdays disappointed in our performance. Technically, I won in the end. Or with tests, I never got a 100, but I never failed a class. Ever. The interesting thing about Clay Aiken coming in second on American Idol and last night on Celebrity Apprentice is this: yes, he lost the title, but he didn't lose the war. He raised the most money for his organization. In the long run, Clay Aiken has become one of the top 10 earners from American Idol and his album sales and following exceed that of winner Ruben Studdard.In my opinion, winning means more for Arsenio Hall's career since he is just now re-emerging and needed the Celebrity Apprentice platform to revitalize his career.
I have to be honest, hearing "no" and all it's variations last week was like wearing a heavy chain around my waist. It literally dragged me down until I couldn't move anymore. Honestly, that's just life. I don't need 10 victories or 5 knights in shining armor. More like 1 knight and a 1-2 victories from time to time

. No reason to get down over that! Victories don't come over night. I have to keep moving, growing and learning. The only way to do it is to keep trying.
Update: Oh, and I stumbled on a great sermon from Charles Stanley yesterday titled "Victory over Rejection". It was timely and uplifting for me. You can take a look at it here.