I can't believe that the devastating earthquakes happened in Haiti over 1 year ago today! The catastrophic earthquake killed more than 220,000 people and To this day, there are still millions left homeless. Last night, I learned more about the state of Haiti when I participated in a Twitter Party with #GNO and #HeartOfHaiti. Heart of Haiti was created by Macys in partnership with Fairwinds Trading and BrandAid Haiti. Proceeds from purchases of Heart of Haiti products provide a better life for Hatiaian artists and families.
Honestly, I am glad that I participated in the conversation last night! I learned much more about Haiti than I knew before. The question and answer session also introduced me to Haitian Artisans, some of the creators of the uniquely crafted items and we even got to see photos of the families. A few things I learned last night:
Over 400 artisans are actively producing items for Heart of Haiti
Children in Haiti are not offered public schooling
Artisans use the money made from the sale of Heart of Haiti products to pay for school for their children
If you can't give through time or money: You can ALWAYS give just by spreading the word through blogs, tweets and word of mouth
When I have kids, I want to instill the spirit of service in them while they are young
I've checked out the beautifully crafted Heart of Haiti items time and time again but have yet to narrow down on which I want most! I finally made a decision today and purchased the Heart of Haiti Tree of Life Picture Frame and the Heart of Haiti Tray, Botanica.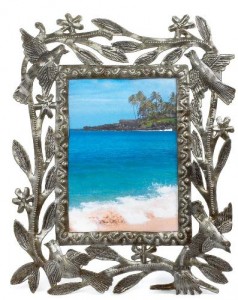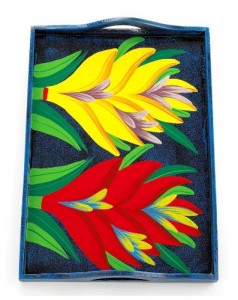 If you have a moment today while thinking about Haiti, check out the Heart of Haiti items. If you order $50 worth of Heart of Haiti items not only does your money contribute to Haitian artists, but you will receive free shipping today with the code ONEHEART. With your purchase, you are creating jobs and opportunities to help Haiti continue to rebuild! All of the items are affordable and unique.