The Back to School commercials are here! For anyone that has never worked in retail, the two biggest seasons are back to school and Christmas. Yesterday I saw the latest Old Navy commercial featuring Jenny Garth, Luke Perry, and Jason Priestley. The three actors are well remembered for their Beverly Hills 90210 roles as Kelly, Dylan and Brandon. The commercial shows Kelly choosing jeans over the two guys. Does anyone remember when Kelly picked herself over Dylan and Brandon? The infamous, "I choose me" episode where she decided to focus on herself. Kelly was always involved in a love triangle. (Kelly-Dylan-Brenda then Kelly-Dylan-Brandon)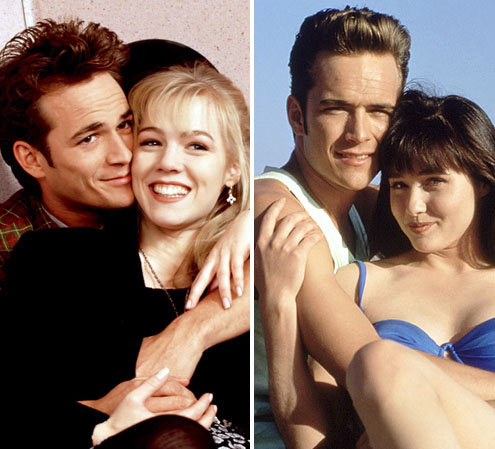 {via}
With recent commercials featuring the Blossom cast, Old Navy must be targeting adults with commercials for sure

what kid younger than 20 would remember Blossom or Beverly Hills 90210? None I can think of. I love the commercials. Nostalgia always wins.
Here's another cute commercial from the back to school campaign featuring Beverly Hills 90210 star Gabrielle Carteris. Remember how she was in love with Brandon but wouldn't tell him. In the commercial she slips up and admits it

What's your favorite back to school commercial?